System Sensor is a company who makes smoke detection and A/V notification devices.
The company was founded in 1984. In that year, it was a division of Pittway Corp. During the industry they first maked the MASS series horn strobes, but also their mini horns were also out, but soon they were discontinued, cause of the ADA complicance all strobes need to have clear strobe lens, so they came with the MASSADA series horn strobes. In 2008 they were discontinued.
In 1997, they introduced the SpectrAlert series (SpectrAlert Classic), but in 2008 they got discontinued in the favor of SpectrAlert Advance series horn strobes, and also in 2013 the SpectrAlert Advance Low Frequency sounder strobes were also introduced. Now in these days they purchase Honeywell, to use their products, and formerly in division of Honeywell.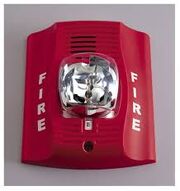 Refrences
Edit
Ad blocker interference detected!
Wikia is a free-to-use site that makes money from advertising. We have a modified experience for viewers using ad blockers

Wikia is not accessible if you've made further modifications. Remove the custom ad blocker rule(s) and the page will load as expected.