Notifier Alarms by Honeywell is a manufacturer of fire alarms for over 50 years and they have over 500 distributors worldwide, and has the support on every continent. Their headqurters are located in Northford, Connecticut. The company has been making conventional, and adressable panels, networks, secuirty intergration systems, mass notification systems, and accessories. They offer a complete line of devices, that interconnect with their fire panels.

The company was founded in 1949 in Waverly, Nebraska by Oliver T. Joy, and his wife Dr. Margaret Joy. In 1956 they moved to Lincoln, Nebraska. In 1962, they selected to use fire detection for the Seattle's World Fair. In 1968, it was sold by Emhart Corp. In 1987 it was required by Pittway Corp. Then in 1988, the company moved to Northford, Connecticut. By 1999, it was sold by Honeywell International Inc.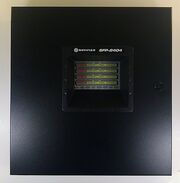 In Present Day
Edit
Now, its part of Honeywell Life Saftey Group. As the company grows, more devices and fire panels, will be put out to the public.
Refrences
Edit
Main Website: http://www.notifier.com/Pages/default.aspx