Fluttershy is from the show My Little Pony: Friendship is Magic.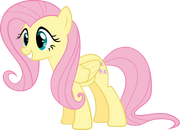 Orignal Apperance
Edit
In orginal, she has light pink hair, sea green eyes, and three pink butterflies which makes her cuite mark.
Human Apperance
Edit
In Equestria Girls, same colored hair, but on it she has a hair clip on which is a white butterfly, she has light yellow skin, a white tank top, and her skrit has three butterflies, green, but has light pink fabric with white small pokadots on it (as seen), and she has green, and white on the botom boots, and pink and white pokadot socks.
Other Information
Edit
In Orignal, she lives in somewhat far away from Ponyville.
In Equestria Girls, shes a student in Canterlot High School.
Ad blocker interference detected!
Wikia is a free-to-use site that makes money from advertising. We have a modified experience for viewers using ad blockers

Wikia is not accessible if you've made further modifications. Remove the custom ad blocker rule(s) and the page will load as expected.