Fifi La Fume is from Tiny Toon Adventures.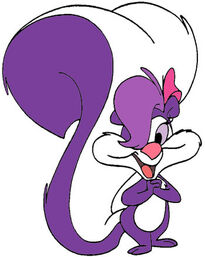 Appearance
Edit
She is a skunk but with purple and white fur, but in a skunk's fur is black and white. She has a big soft tail that is bigger than her body, she also have a bow in her purple hair, and with some hair coming down covering one eye makes her look unique, and purple eyes.
Other Information:
Edit
Gender: Female
Type: Skunk
Ad blocker interference detected!
Wikia is a free-to-use site that makes money from advertising. We have a modified experience for viewers using ad blockers

Wikia is not accessible if you've made further modifications. Remove the custom ad blocker rule(s) and the page will load as expected.